Excerpt -

When we fully reopen in 2016 we will be much more than a new building and a cleaned up campus. The new aquarium will be the home of the WCS New York Seascape program -- our research and conservation program focusing on our rivers, harbor, and ocean from Cape May, New Jersey to Montauk, Long Island.
Our visitors will experience firsthand the marine conservation challenges facing New York waters. For the first time, they'll get a window into the ocean wilderness that surrounds this city of islands. They'll understand the issues that face us as a coastal city in an era of rising seas and extreme weather, and how the aquarium is working with partners on every front to help build the economic, cultural, and ecological resilience this city needs in order to thrive.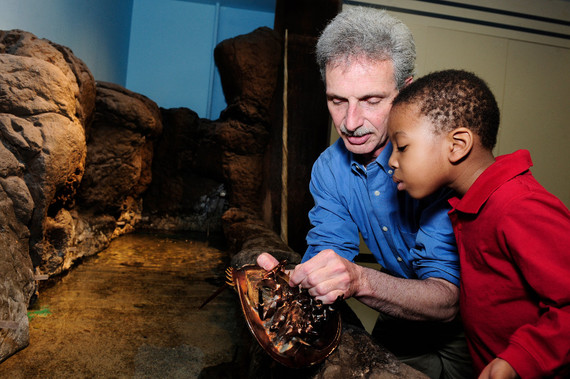 The new New York Aquarium hopes to become an even greater wellspring to an interest, a passion, an education, a career. Photo: Julie Larsen Maher ©WCS.

Visitors will follow the journey of sharks tagged by our scientists in the Great South Bay as they migrate down the coast into the waters of Delaware, the Carolinas and Florida. New Yorkers will join in our work through citizen science programs that will begin to unravel the population dynamics of skates and rays in our waters.

Guests will be introduced to the Hudson Canyon, an offshore submarine formation the size of the Grand Canyon, whose walls rise three-quarters of a mile from the ocean floor. There we hope to help create a National Marine Sanctuary that will protect deep sea corals and the unique ecosystems found in this marvelous place.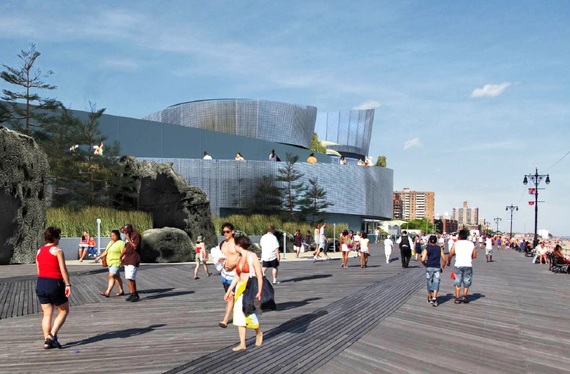 The renovated aquarium will be ocean-facing, inviting Coney Island visitors to step in off the boardwalk and learn more about their marine environment. Graphic: The Portico Group ©WCS.
A visit to the new New York Aquarium will become the inspiring start to an interest, a passion, an education, a career. Our economic contribution to one of New York's most underserved communities through jobs and expenditures will be stronger than ever.
http://www.huffingtonpost.com/jon-forrest-dohlin/a-new-new-york-aquarium_b_6097006.html